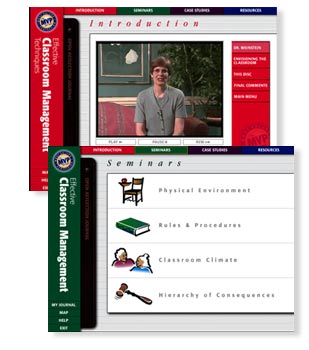 While originally designed as a stand-alone training opportunity, this program is currently presented in a 3-day "train-the-trainer" model. Site based facilitators (principals, assistant principals and/or teachers) are prepared to train newly hired teachers or experienced teachers who have improved classroom management skills as a performance development goal. The participants receive a facilitator's guide and an Effective Classroom Management CD-ROM that we refer to as a "coach-in-the-pocket" for each teacher to be trained at their school.

Research Based
The design of this program centers on case study research about classroom teachers who demonstrate effective classroom management techniques. Featured on this disk is Rutgers Graduate School of Education Professor Dr. Carol Weinstein. Dr. Weinstein presents the research using a seminar approach.
Case Studies
Following the seminars, the learner has the opportunity to review several case studies, designed by Dr. Rita Silverman (Pace University) and colleagues. These case studies demonstrate teachers facing challenges with various classroom management issues. Using critical thinking skills and the information learned from Dr. Weinstein's research, the learner assesses the problem(s) within the case studies, and attempts to solve them. The learner is then able to view clips of educators discussing problems within the case studies and possible solutions.
References and Resources for Effective Teaching Strategies
Also included is a reference section where the learner can access journal articles and other materials (including related websites) about classroom management. The goal of the instructional strategy is for the learner to study the research on effective classroom management, and begin to distinguish between non-effective and effective classroom management techniques. Ultimately, the goal is for the learner to identify areas within his/her own management techniques that could be developed and made more effective.