PRODUCT DESCRIPTION
Environmental, economic, and social messages explain how the forestry profession is dedicated to an active balance between environmental, economic, and social perspectives. A variety of exciting career opportunities is also explored.
| | |
| --- | --- |
| | Watch a video presentation from Forest Fever. |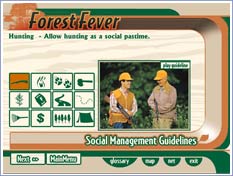 PRESS CONFERENCE
Press conference activities challenge common misconceptions about forestry, and highlight another necessary skill for a forestry career - public speaking. Participant scores are saved to a file on the computer's desktop so the teacher can view the student's progress.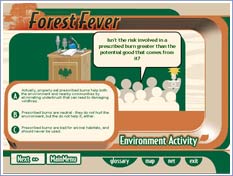 FOREST MANAGEMENT
Audio narration provides an encyclopedia of guidelines given from the perspective of the environmental needs, the economic needs and the social needs of the forest. This section also offers management guidelines for common concerns like endangered species, invasive species, wildfire, drought, severe storms, and disease. Participants use these guidelines later in the forest management activity.
The forest management activity provides a simulated forest environment where participants attempt to balance the needs of the forest by harvesting and planting trees; building trails, roads, and campgrounds; designating wildlife management areas, hunting areas, and buffer zones; and setting a prescribed burn. Critical thinking skills are tested as they make complex decisions like what percentage and age range of the trees they should cut in their forest. They also have to manage wildfire, disease, and the presence of endangered species – as well as the occasional forest fire.