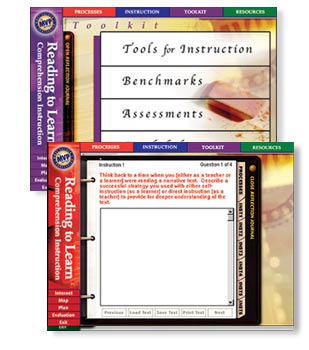 The ultimate goal of Reading to Learn: Comprehension Instruction is for educators in all areas to learn ways to help students comprehend what they read.

Research Based
This program concentrates on the skills of reading comprehension for students at all grade levels, including comprehension of secondary content area textbooks. The program is suitable for ALL educators K-12 who have the responsibility of helping students learn to read and understand written text better. This program is NOT designed only for reading specialists or Language Arts teachers. The program gives teachers across the curriculum critical, research-based information on increasing reading comprehension levels.
Reflection Journal
Participants use a private reflection journal to record thoughts and ideas about the instruction. The reflection journal also serves as a place where the users can assess their own practice and reflect on ways to use research-based information to enhance or change practices in their own classroom.
Toolbox and other Resources
The ĺ─˙Coach in the Pocketĺ─¨ includes a ĺ─˙tool-boxĺ─¨ with benchmarks, instruments to help determine readability of texts, information of appropriate assessments, tips on teaching vocabulary, and examples of graphic organizers. A resource section includes printable materials for further study and use in the classroom. The users are also able to connect to the Internet to access other professionals dealing with reading issues, link information to state standards, and find other information on professional development.