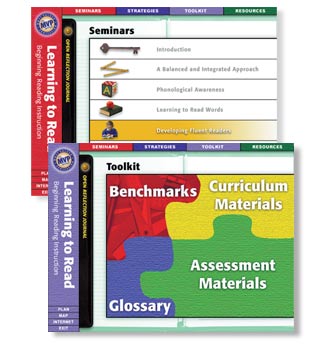 The professional development program, Learning to read: Beginning Reading Instruction, provides educators access to effective practices research and information about applying it in the classroom, thus increasing student achievement. It includes information on providing a balanced, integrated approach to reading instruction and details the importance of providing early, systematic intervention for struggling readers.

Research Based
Learning to read: Beginning Reading Instruction is not designed solely for reading specialists. It applies an integrated curriculum approach, making it suitable for all educators responsible for helping students learn how to read and better understand written text.
Reflection Journal
The user may access a private Reflection Journal to record thoughts and ideas about the instruction. The Reflection Journal may also serve as a place where the users can assess their own practice and reflect on ways to use research-based information to enhance or change practices in their own classroom.
Tool Kit and Resources for Further Study
The ĺ─˙Coach in the Pocketĺ─¨ also includes a ĺ─˙tool-kitĺ─¨ with information on initial screening instruments, lesson-plan ideas, and other useful documents the user can print and use in the classroom. In the resource section are full-text articles and information on linking these practices to state standards. Through an Internet connection the user may access up-to-date links to best practices, valuable resources and other professional development information, as available.